My wife and I brought our family to Greeley First in May 2019 (and felt at home from day one)! We enjoy creative endeavors like design and writing, as well as hikes with great views. Vivíamos en España durante 4 años, entonces podemos servirte en español también.
I was born and raised in Uganda! Growing up, I loved singing and pretending to play instruments (like a keyboard on a wood table). I joined I AM Children's Choir in 2008, through which I was adopted into an American family. In my free time, I play football (aka, soccer), read, and have awesome conversations with friends.
Landon grew up in Greeley First , and April started coming in college. They first met here about 7 years ago, and were walking down the aisle a few years later. Landon and April have been helping in youth ministry for about four years. They enjoy staying young with the teens and pouring into the next generation!
Kids Coordinator (K - 5th Grade)
My wife, Megan, and I have been married since 2010 and attending Greeley First since 2016. Together we have two beautiful girls. I serve by coordinating Kids Church, while Megan helps in the nursery."
Kids Coordinator (Ages 0-5)
My husband, Peter, and I moved to Greeley in May 2018 and love our new community! Together we're Chi Alpha missionaries at UNC, and have two great kids – Luca and Elodie. We enjoy being with friends & family, sharing meals or coffee, and playing board games!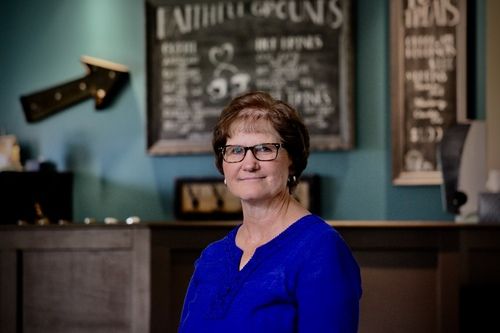 I've attended Greeley First for 40 years, and have loved serving as Office Manager for about 10 years. My my amazing husband, Mark, and I have been married for 17 years, and together we have 6 children and 12 grandchildren. I love my family, camping, reading and doing crafts!
Hi there! I've been a receptionist at Greeley First for over 4 years. I really enjoy meeting and greeting wonderful people like you! To relax I like to read, spend time with my family, and do artful projects.
I've been blessed to be with Greeley First for the past 7 years. I own a small accounting practice, which has given me the freedom to be "home" and part of the "working" world. My husband, Tom, and I have been married for over 30 years and raised 3 children. We enjoyed raising kids, but grandparenting is even grander!
Sonshine Preschool Director
I was born in Australia, moved to Colorado when I was five, and have lived in Greeley since 2002. I've loved working in early childhood education for 19 years, which includes opening SonShine in 2012.